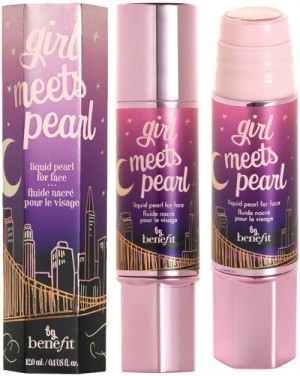 With the dry weather upon us, I have to admit that I am looking for ways to add luminosity to my everyday look.  Though I have supremely oily skin, it's just not doing its dewy thing anymore so I've got to make up for that.
I'm using and totally addicted to Benefit's Girl Meets Pearl.  This is a sheer pink highlighting cream that has micro-fine gold shimmer in it and I have to say that it looks good on just about everyone.  It seems to bring out the glow in my tan skin and I know that cooler toned girls will like the warmth that light gold can bring.
I like this better than Benefit's Moon Beam and High Beam which are also highlighters.  I like it better because it goes on more sheer so that you can really customize and build the shimmer that you want.  It's also more flattering to use because of the gold shimmer.  It does have a light pink base, but the base is entirely sheer so you don't get any of the colour on your skin.  Moon Beam and High Beam also use doe foot applicators, and this is a twist up tube.  The product comes out the top, and you can then pick up and apply product with a brush or your fingers.  It's a very easy to use product and so flattering!
There are so many ways to use this.
On a daily basis, I like to mix this with my regular moisturizer so that I can add a really subtle layer of light to my skin.  If I put foundation on top, I do it sheerly so that a little bit of the shimmer can still peek through.
For going out, I love this as a highlighter and use on top of my foundation.  I tap it on to brow bones, on the bridge of my nose, and on the high parts of my cheeks.  It blends in effortlessly and looks beautiful and professional.
This is one of the best Benefit products I have ever tried, and it is an essential in my makeup bag especially since it's the season to be getting ready for parties and looking your best.