Friends, today is all about the lip. There are so many new fun lip products out right now and we're going to break down each and every one of them for you.
We start with Clinique's Chubby Stick Intense which was clearly introduced after the original Chubby Stick did so well. A high-end moisturizing balm and colour that was super easy to apply? Well who doesn't want that?
And now there's a version for those of us who want a bit more colour.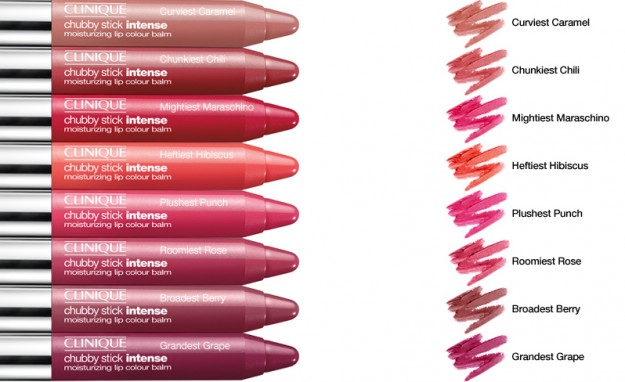 Check out the shade selection. Amazing, is it not?
Our original review of the Chubby Stick said that it was light on the pigment, and if that's what you thought too, you'll be happy to know that these new Intense versions are pigment packed!  They are also light-weight and feel like nothing on your lips.  But they're moisturizing so if you've got a bit of flakiness thanks to this lovely weather, then you'll be happy to know that these won't make it worse and will make it so those lips get some relief.
Our favourite colour is definitely Curviest Caramel which makes for the perfect nude lip.  Heftiest Hibiscus is also the perfect orange that borders on red and is perfect for those holiday parties you're going to.
The Chubby Sticks are $16 each and are pure perfection in our books.  Pick them up at the Clinique counter.