If you're like us, you're now getting ready to attend some serious Holiday parties. I have to admit, that this is by far my most favourite time of the year. I love festive decor and especially festive food. I love seeing my friends and having a gaggle of them get together. I love gift exchanges. And of course, I absolutely love getting dressed up.
Over the last little while, I have been absolutely perfecting my holiday makeup. This means that I can get ready and look glam in under 20 minutes and my makeup will look flawless. I'm going to share some of my favourite – they are all must-haves in my makeup arsenal.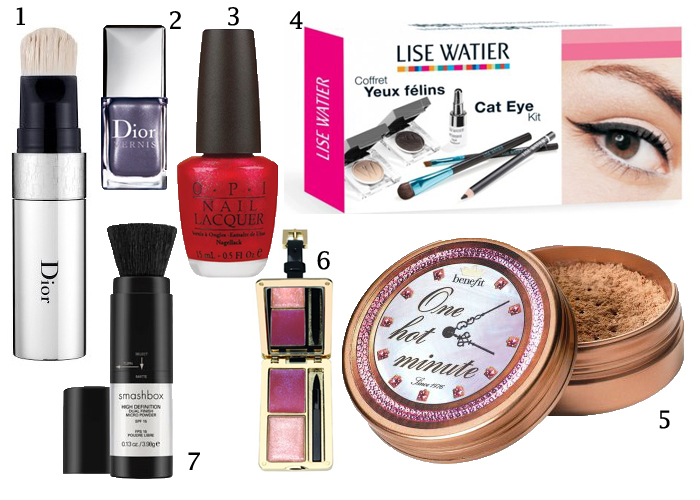 Dior Skinflash Primer (1). This Radiance Boosting Makeup Primer is hands down the best primer I have ever used. It comes in a jumbo pen container so that it's easy to apply evenly. I love it so much because it works beautifully under powder or mineral foundation. The foundation almost seems to stick to it and doesn't come off for the entire day. Because it is "radiance boosting" it does have some shimmer in it which makes it great to use on the weekend when you're not wearing any makeup. Your skin will look fresh and glowing and your overall look will be a well-rested one. Available at Sephora and fully worth using during party season when you need to look your absolute best. (Retails for $48).
Dior Nail Lacquer in Silver Purple (2). Grey is the nail colour of the season. Black is definitely out, Lincoln Park After Dark has had its day, and if you must go ultra-dark it better be with a blue. I've had a hard time getting rid of the dark polish on my hands, but Dior's Silver Purple is the perfect mix of darkness, colour, and grey. All in a glam package, this is the only colour that's going to be on my fingertips this holiday season.
While we're on the subject of nail polish, also check out OPI's Holiday collection, Holiday Wishes. They have a lovely colour called Dear Santa (3) which is the most perfect sparkly shimmery red that I've seen this season. Absolutely pretty and this is almost the only time of year that you can get away with wearing such a bright red. ($11 at most salons.)
Lise Watier Cat Eye Kit (4). We get that you may already have a smoky eye kit, or even the shadows you need to create a smoky or cat eye, but the instructions in this set really are quite good and that means that you can practice and get your cat eye look absolutely perfect. Instructions aside, what really sold me on this kit is that the dark eyeshadow is very well pigmented. I use it dry to create a matte smoky look or use it wet so that it goes on more as an eyeliner. So versatile and amazing quality! This kit can help your makeup go from quite ordinary to extraordinary. At $34 it's quite a steal too.
Benefit One Hot Minute (5). It won't even take you one minute to highlight your face, especially if you use this foolproof powder. It's foolproof because it's not too shimmery or frosty and is a nice warm pink colour that will go well on every skintone. Take your favourite fluffy eyeshadow brush (not the one that comes with this powder) and apply this to your brow bones, the tops of your cheeks, and on your neck. I also love that this comes in a metal container and not the usual cardboard which does start to look beat up after a while in my makeup drawer. Get glowing in seconds!
Finally, your holiday look isn't complete without a really great lip gloss, and on this you must splurge. You're going to pull it out of your bag many times throughout the night, and wouldn't it be nice if it's something totally glam and lux?
To that end, my pick is the YSL Palette Duo Pour Les Levres (6). There's a rosy-beige lipstick and a champagne gloss paired with it and both are super pretty. The palette is actually a bag charm and the gold detailing is retro yet super pretty. Yes, it's $82 but think of it as your Christmas gift to yourself!
Also! Something to stash in your purse to help when shine hits! Grab Smashbox's High Definition Dual Finish Micro Powder (7). It's shimmery on one side, matte on the other, and you can choose the finish you want with a twist of the powder. Portable and functional!