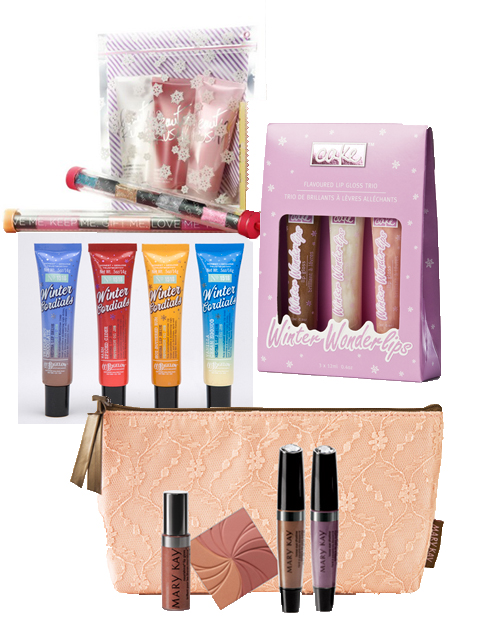 The whole concept of Stocking Stuffers has changed for me. I don't actually stuff any stockings but I still stock up on these because they are great to have around when people drop by unannounced, or when I have to do a gift exchange with someone that I might not know very well. Really, is there anything wrong with giving these out throughout the year? I sure hope not! Here are some of my favourites… and yes, I have a very hard time not keeping some of them for myself.
The C.O . Bigelow Winter Cordials from Bath and Body Works don't come as a set, but you can certainly get all of them and gift them together. The winter Cordials takes the Mentha Lip Balm and modifies it with 4 new flavours: Hot Chocolate, Cider, Eggnog, and Ginger. They taste yummy and smell good too! Plus, you know they're only going to be around for the holiday season. They are $7.50 each and available at Bath and Body Works.
Still in the gloss sets is this Beauty Rush lip gloss set from Victoria's Secret (you can also get VS makeup at La Senza stores here in Canada, since La Senza is now owned by VS). Apparently, these glosses are collectible, so if you like having these in different flavours, get your hands on them now. I've owned a few before and they taste yummy too.
If you'd like something a little more complete, you have to check out the Romantic Notions gift set from Mary Kay. It has a silky blush, a non-sticky lip gloss in a sheer colour, and 2 loose powder eye shadows, all in one fantastic package. I've actually gifted this already, and the response upon opening the packaging was "ooooooh". That's always a good thing. Available from your local Mary Kay representative – or MaryKay.com.
I'm also loving the Winter Wonderlips set of balms from Canada's own Cake Beauty. You can find their products at some Sephora stores or on their website. Every product smells like a dessert and is chock full of moisturizers. The balms are wonderful for when you're craving a sweet Christmas goody but are trying to resist.