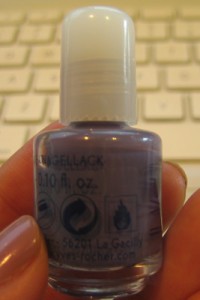 Yves Rocher's summer collection has these cute little nail polishes that I absolutely had to try.  My favourite colour was Lavande.  It's a lavender blue (just like it sounds), and I received countless compliments on it.  Even my parents, who usually hate the blues that I love to wear, said that it was a pretty colour.  Beauty editors that I've ran into recently have gone gaga over it.
And the crying shame is that it probably has the worst applicator ever.  The brush for this nail colour clumps together which means that you get really streaky application even when it's your second or third coat.  Also because the bottle is so small, it seems that there isn't enough colour on the brush so you have to dip into the bottle even if you're just applied colour to one nail.
Applying this polish was way too hard which is too bad, because it's really one of the nicest colours to come out this summer.