Makeup setting is something that I did without for a long time – I figured that if a foundation was really good, then it would be able to stay on, but right now the foundation that I really like isn't exactly long-wearing, so a bit of a setting powder is needed, and it goes a long way.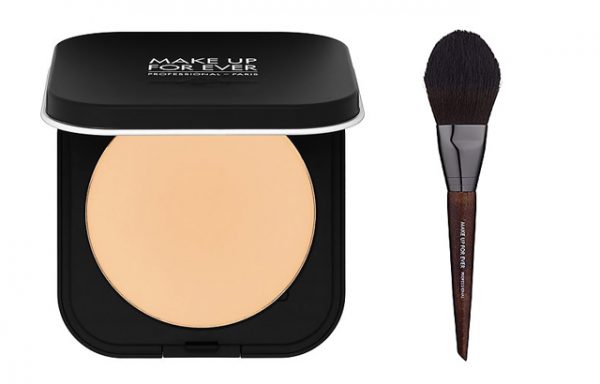 These days, I've been using Make Up For Ever's Ultra HD Microfinishing Pressed Powder, which is so much easier to use than a loose powder.  It doesn't go all over the place, and you don't have to worry about getting too much powder on your brush. You literally dip, and then press into your makeup.
I'm actually using a Make Up For Ever Powder Brush for it, and it's so soft that it blends the powder perfectly. It is the 128 Precision Powder Brush, which is a big brush but tapered so that you can place powder next to your nose or under your eyes.  Love the Make Up For Ever brushes because they're just so soft and can be used for liquid or powder.
This Pressed Powder is literally the softest most buttery one I have ever tried.  You put your finger over it and you can't even tell that you're touching it, it's so soft and smooth.  It's literally like touching silk!  Even though it's so nice, there's still a decent amount that comes on to your brush, and there's not a lot of fall out either, so it works perfectly.
I use the colour Banana, and it subtly brightens up my makeup without really adding colour.  There's also a peach and a clear available in this powder.
$45.