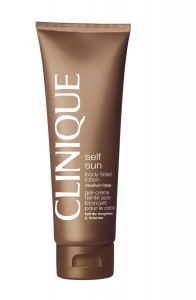 I'm always going to suggest you don't sun tan.  It is really damaging to your skin and it's the best way to look older than you really are when you're in your 30's. Many of you are new to self-tanner may be wondering how to apply it. I've given some tips before that you might want to check out.
My advice is that if you're a beginner, start by mixing it into your moisturizer so that your mistakes won't be as obvious.
If you choose to go full strength and want a tan the next day, make sure that you exfoliate before applying the product.
Don't moisturize your skin, and apply the self-tanner directly to your skin.  Work in small batches and make sure that you rub in the product until it's completely absorbed.  This will ensure that you get a streak-free finish.
If you have an extra day before you need to be tan, then thoroughly exfoliate your skin again the next day.  This won't take off all the tan but will help correct any mistakes and will make the tan look more even.  After this, you can reapply the self-tanner if you need to, or enjoy your new tan!
Want to know a good sunless tanner to pick up?  We're liking Clinique's Self Sun Body Tinted Lotion.  It has a hint of bronzer and shimmer in it so that you can see exactly where you're applying product, and is a moisturizing gel formula. $38 at Sephora and your local Clinique counter.