David Babaii did Bryce Dallas Howard's hair for the Twilight premiere, and he used Moroccanoil products (this line is quickly becoming one of our favourites).  Here's how he achieved her look: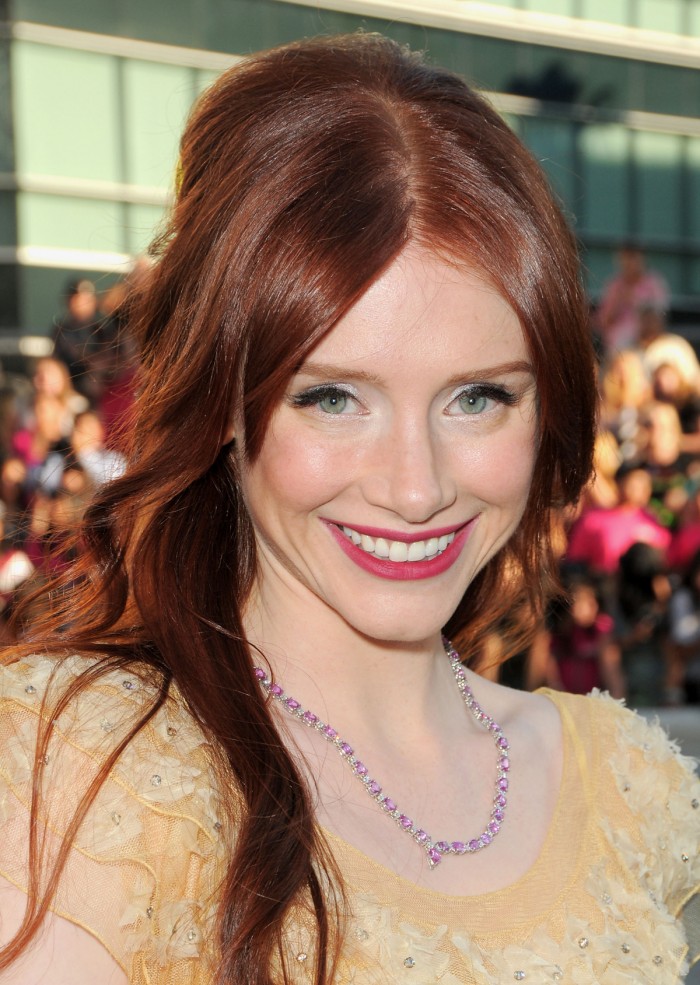 "I prepared Bryce's hair by applying a small amount of argan oil-infused original Moroccanoil
Treatment on damp hair before blow-drying to condition, strengthen and protect strands from
the heat of the curling iron as well as to eliminate any sign of frizz or static. It absorbs instantly
and speeds my blow-drying time so I can concentrate on styling. I love using Moroccanoil
Treatment with flat or curling irons when I work because the hair becomes even better
conditioned and healthier.
Once the hair was dry, I applied Moroccanoil Hydrating Styling Cream to the palm of my hands
then randomly finger-combed sections of the hair for natural looking hold. After making a
center part, I used a curling iron to form loose, flowing waves that were easy to work and to
tuck behind the ears. I then gently teased the hair at the crown to create a suggestion of a
Bardot bee-hive, pinned the sides, and left a soft cascade of gorgeous hair flowing down her
back. Next, I lightly misted Bryce's hair using Moroccanoil Glimmer Shine Spray for an extra
boost of natural-looking shine to reflect her beautiful color, especially in the bright lights on the
red carpet. It was important to me to give the hair a luminous, ethereal look, and perfect
condition and lustre was essential.
To hold the hair in place without compromising on shine or movement, I finished the style with
new Moroccanoil Luminous Hair Spray, which is blended with Moroccanoil's exclusive argan oil-
infused formula. It sprays on in a soft, diffused mist and I love how touchable the hair feels, as
well as so moveable with long-lasting hold that lasts all night long. "