You might not be showing your lips very often, now that masks are the norm, but you can still perfect your own technique.  Here are some tips.
While some see a bright red lip as just a gash of lipstick, us beauty addicts know that it's so much more than that. Red lipstick is the ultimate beauty statement and a mark of true confidence. It's not easy to pull off, but we can show you how to do it properly.
This year, to find out how to do a perfect red lip, we talked to Estee Lauder's Global Premier Makeup Artist how we can do our red lip this season and he gave us some great tips.
First and formost: Blair said that you shouldn't even try to do a red lip if you don't plan on doing it properly. What's proper? Using a lip liner so the red lip is perfectly lined, using a base so that the lipstick stays put, and actually finding the right color for yourself, not just picking up whatever was in your mom's drawer or whatever you had lying around.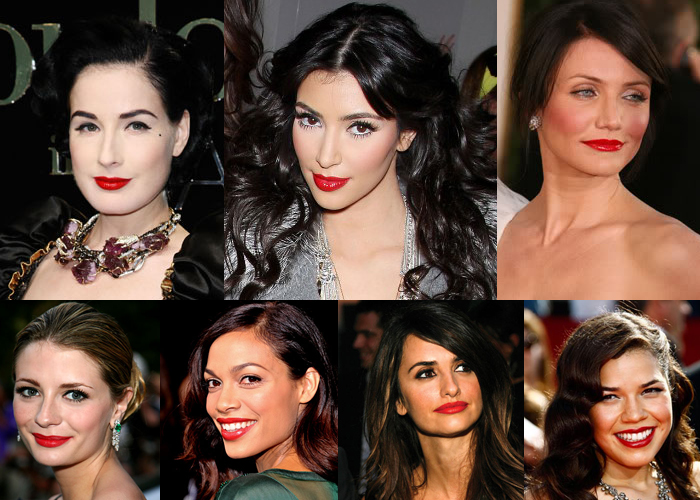 What's a problem for many people is finding the perfect color for themselves.
The shade that you pick should obviously compliment your skin tone. Blair suggests that darker skin tones should try reds that have more blue in them, and lighter skin tones can go with a more orangy colour. In the collage above check out Mischa Barton and Dita Von Teese's lipstick which is definitely on the coral side of things, whereas Kim Kardashian and Rosario Dawson are wearing clearly blue-based lippies. A blue based lipstick will make your teeth look whiter, but I would focus on the overall look when picking a great lipstick. Cool skin tones may want to try the Estee Lauder Signature Lipstick in Rich Red. Warmer skin tones might want to try Double Wear Stay-In-Place Lipstick in Stay Scarlett.
You can use Estee Lauder's Double Wear concealer under your lipstick to even out the color of your lips and create a perfectly blank canvas. Before you go ahead and apply the lipstick, make sure that the concealer is totally dry so that it doesn't smudge into the color.
Finally, apply a light gloss in a gold tone at the center of the lips which will make your lips look fuller. The Estee Lauder counter has tons of options when it comes to red lipsticks – they have a huge array of different shades and finishes, so I would head over there to try to find the perfect shade!