Kristen Stewart probably thinks that she has a lot of makeup on her face, but a glam look suits her so well because it makes her eyes look amazing.  She certainly look fierce at the New York premiere of Twilight Saga: Eclipse, and here's how makeup artist Beau Nelson put together her smoky eye look: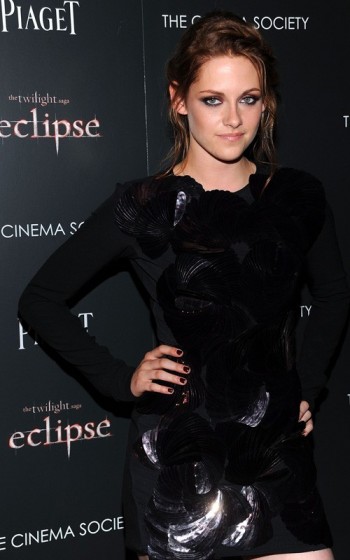 1.       Start by applying NARS Zardoz cream shadow all over the lid and up to the crease of the eye diffusing it at the edges your fingers.
2.       Then use a small brush to apply NARS Zardoz under the eye as well.
3.       To create maximum depth and extend the wear of the eye, apply the black side of NARS Pandora Duo Eyeshadow over top of NARS Zardoz using a domed blender eyeshadow brush.
4.       Make sure to diffuse the edges (an easy way to do this is to apply a shade in the same family of whatever you are using, in a lighter tone. (i.e.-Black works with dark or midtone gray, or midtone brown works with deep espresso).
5.       Then apply a cranberry colored shadow on the inner 1/3 of the eye with a fluffy brush (try the right side of NARS Brazil Duo Eyeshadow).
6.       Finally, apply black pencil liner to the inner rim of the eyes. (Try NARS black Moon).
7.       Curl lashes with NARS lash curler and then apply Larger Than Life Mascara to both the top and bottom.