I've written about Dyson on the blog before.  I got to try their vacuum cleaners out before buying them, and guess what, I loved them so much that I kept buying them after I gave the loaner back.  What I love the most is that they're super light so that I can pick up the whole canister in one hand and take it all over the house while I use the vacuum part.  There's less dragging than usual, and I love that, but also the suction power is great, and oh yeah, they're so light! Clearly that's a factor.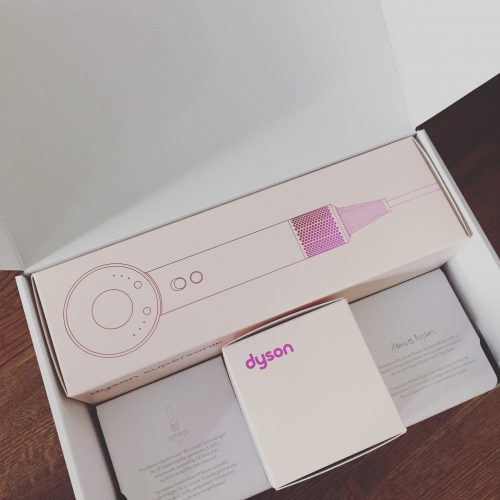 Still, even though I trust and know the brand, I couldn't justify shilling out $500 for a hair dryer because I just don't blow-dry my hair that much.
Instead, I got it for my birthday from my sister, and I couldn't have asked for a better present.  Surprise surprise, it's actually a better hair dryer than what I was using before, and it is absolutely the best hair dryer ever.  
Again, just as with the vacuum cleaner, this hair dryer is super light so that you don't get tired when you're using it.  It's specially designed to be ergonomic. The motor isn't in the handle like it is for most hair dryers, which makes them bottom heavy and can tire your wrist out after a while.  Instead, the motor is in the middle of the unit so the weight is more evenly distributed and your hand doesn't get tired using it. That means that you can better focus on the brushing and directing the flow of air where it needs to go.  
Despite the restructuring of the motor and the new design, this is actually a pretty powerful hair dryer and it packs a punch.  They say that it's quieter than it could be considering the power, but it's still pretty loud. You can tell from another room when it's on and off, and when you're done using it.  
Because it makes it quicker to get your hair dry, you're left with smoother hair and less heat on it.  Ultimately, that's a good thing for your hair, and it results in a smoother end product.
You can get the hair dryer at Sephora and The Bay.  $499.99.