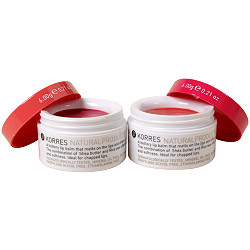 I'm sure many of you have walked by or heard of Korres products before and didn't know what the big deal was.   As it turns out, Korres is a Greek company that makes skincare products using plant derivatives.  Think old world natural products that have some science to back them up, and the result is a line of wonderful products that seem almost healthy to use.
One of my favourites of the line is their lip balm.  It is so smooth and moisturizing that I keep it beside my bed and use it nightly.  It sinks into my lips and makes them so smooth.
Available at Shoppers Drug Mart. $16.