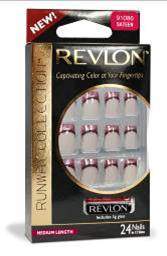 After years of writing this blog, I've finally reached the point where I need the help of my readers.  I finally decided to try on some fake nails, and I tried Revlon's first.  The only problem is that the instructions on them are minimal at best, and they don't warn you of anything when it comes to applying the nails.
Last week, I tried applying the nails myself, and it was an epic fail.  I didn't realize that the nail glue they provided was crazy glue and got it all over the place.  They also don't tell you how much glue you need, and I found that no matter what, I had excess glue coming out of the sides of the nails, but I still had air bubbles under each nail.
The end result was so horrible, that I just decided to take the nails off (which also isn't easy).   The problem is, I don't know what I did wrong and how I can get better at putting the nails on, so if you have any tips for me, leave me a comment!