I'm solution oriented, to say the least, and I love beauty prescriptions.  I know I'm not the only one because beauty companies use them as marketing gimmicks all the time: "use this for 6 weeks to see results" and in the case of Fekkai's PrX 3 Day Transformation treatment, it's "use it for 3 days to see results."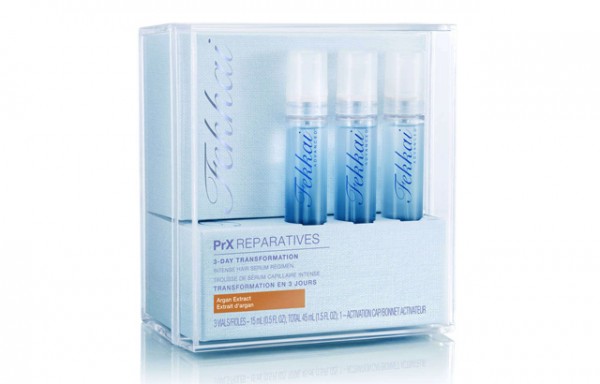 I had to use it – highlighted fine curly hair that spends lots of time in chlorinated water means extra treatment is in order.
So I was eager to try the PrX Reparatives 3 Day Transformation treatment (available at Shoppers Drug Mart for $50 for the system).  "Dull, lifeless hair is transformed in just three uses, helping to leave hair visibly smooth, shiny and soft to the touch."
Yes, that's something I needed.
The system is as it seems: three plastic vials of watery "treatment" that you spray into the hair, completely saturating it. I was surprised: I had thought that the treatment would be some sort of oil or serum, but the light system is actually something that all hair types could use because it doesn't weigh hair down at all. The only problem is that the tiny vials are difficult to spray (my finger kept getting tired) and by the time I was done using an entire vial, my hair was dripping wet with the treatment.
No worries, if you have shorter hair, the instructions do say that you could use half a vial of treatment as long as you've applied a good amount to your hair.
I left the treatment in until my next wash and didn't follow up with any heavier leave-ins – although I was tempted. Usually it's the heavier leave-ins that really take care of my frizzy hair, but I wanted to see if this treatment really could do the job on its own.
I was not disappointed.
Though this treatment may have lacked a little in the frizz-defying department, it really did make my hair soft and shiny and without any grease. Kind of an anomaly in today's day and age, where every great new product seems to have special oils in it. Instead of three days, I was actually able to have enough treatment to use for a week, and every time I used it, my hair looked and felt great.
The results though, are not long-lasting. A month after using the treatment, the dryness on the ends is back, showing that you do need to use the treatment regularly for the effects to stay.
I'm okay with that – I'm just happy that it worked at all!