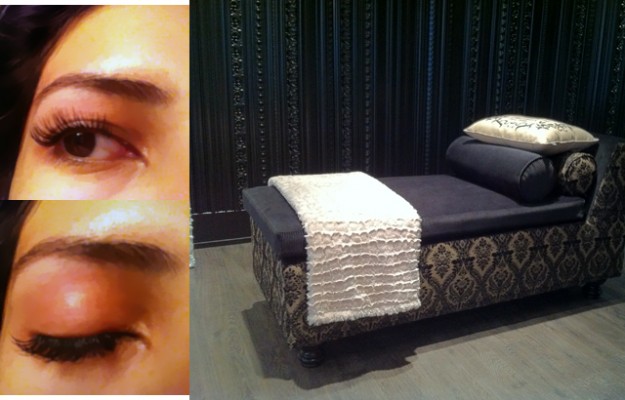 So @NoirLashLounge opened in Calgary, and I just had to check out what the fuss about lash extensions is about.  I called up Noir, and got an appointment with their most experienced technician, Dawn.  She's been working at Noir for a year and a half, and where most technicians take up to an hour and a half to install eyelashes, she just takes 45 minutes.
I think the results speak for themselves.  I picked thick lashes, in the 14 size which were about 1mm longer than my own lashes.  The final result was a nice long natural-looking fringe that didn't need any mascara on it.
The extensions last a month, and I found that a few fell out every day, which really didn't make a difference in the overall look.
3 weeks later, I still have some lashes in, though most of them have fallen out.  I think that because I have oily skin, the lashes fell out a bit quicker than most people's might, but I'm at the point now that I can wear mascara and the lashes still look fine.
The lashes are $75 a set.  They are totally worth the price, but I think I'd only get them for special occasions just because I miss being able to wash my face like normal.
Noir Lash Lounge in Calgary is at #100A 2303 4th St SW Calgary, AB.  Call (403) 228-1164 to make an appointment.