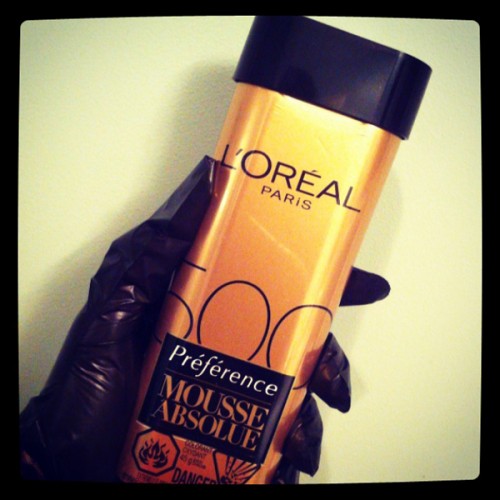 Have I said this before? I'm a sucker for nice packaging and I'm probably an advertiser's dream: when I see something new I just have to try it.  This is why I chose to try L'Oreal's new foam hair dye.  L'Oreal Preference Mousse Absolue seems to have so much going for it: luxe gold packaging, no mixing, just spray, apply, and when it's time, wash it out.  You can even get more than one use out of it, which is perfect if all you ever like to colour is your roots (I definitely fall into that category).
But then I started using the foam, and as I applied, I remembered all the reasons I didn't like foam hair colour and had vowed never to use it again.
First and foremost, the inherent quality of foam means that it's made up of liquid and air bubbles.  Because of these bubbles, as you apply the product to your hair, you can't help but realize that the coverage you're getting is lighter than you think.  Sure, there's some liquid being applied to your hair, but the air bubbles are also leaving gaps in that application.  That's why the directions included in the package instruct you to apply more and more dye foam until it seems that your hair is completely saturated.  That's to compensate for those air bubbles in the foam.
As I applied more and more foam to my hair, I realized that there was no real way to tell whether the coverage I was getting was adequate and even.  Sure, my hair would seem to be saturated, but then the hair dye would seem to dry out, and I would feel the need to apply more to areas that I had already gone over a few times.
Although there was supposedly enough in the bottle for me to do two root applications, after all was said and done, I only had enough for one application of dye because I kept using the foam all over my hair to make sure I had even coverage.  And at the end, it seemed like I still missed a spot: the area near my temples where I didn't want to over-apply for fear of getting the foam on my skin.  And the instructions did tell me to be thorough at the contours of my face, but I guess I didn't realize how important that was.
The foam is rich and thick, and easy to apply, but because the coverage is obviously hit or miss, I still cannot recommend this hair dye.  My preferred method would be a thick coloured gel that doesn't drip, but as far as I know this isn't available on the market, so I'm out of luck.
L'Oreal Mousse Absolue is available at drugstores and mass retailers now.