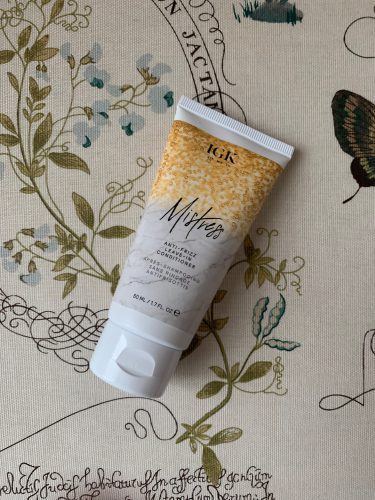 I don't know when, but sometime last year I noticed the brand IGK pop up on my Sephora page, and the brand definitely caught my eye. They have a coconut oil gel for curly hair, and products that lean towards using natural but old-school ingredients. In particular, they have a shampoo and conditioner with Amla oil in it, which is long revered in Indian folk remedies for being very good for your hair and scalp.
Anyway, I got a sample size of the IGK Mistress Leave-In and I had to try it.
This gel is for all hair types and has coconut oil as one of the ingredients (along with water, dimethicone, and other usual suspects). The gel is clear and gives you some hold along with conditioning. I found that I couldn't just use it on its own, but it was great paired with a little bit of hair serum too.
You can use this on wet hair or dry hair. On dry hair, it works more like a traditional gel because it sets your style but leaves hair a bit crunchy, so do this if you're going to be washing your hair the next day anyway. On wet hair, this left my hair soft and smooth and frizz-free. I'd use it again, and I'd get the full size too.
Pick it up at Sephora for $38.