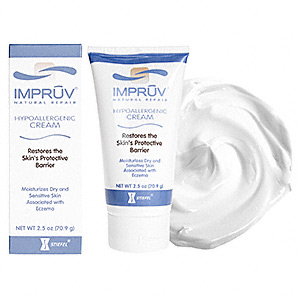 If you're looking for the Impruv cream, you can get it here.  It's a cult favourite for people who have troubled skin.  It helps improve your skin's barrier and is a barrier cream.  That means that it keeps moisture in and prevents it from evaporating from your skin.
Dry skin is a problem for many of us, but it's often difficult to find a good moisturizer that will relieve skin without causing the awful breakouts that often occur from a too-greasy yet intensely moisturizing formulation.
For those of you who need some help, we're pleased to say that there's a stellar product out there that might just be the best moisturizer we have every tried. Yes, it's meant for the face, but we've found that it's been working wonders on elbows and dry feet too! It is that good!
We're talking about a cream called Impruv. It's fragrance free and non-comedogenic. The cream has a thick consistency but when applied it goes on slightly watery instead of being oily or greasy. Apply generously at night (and it'll still be on in the morning) or apply sparingly under your makeup. Whichever method you choose, we like this because it really stays on!
They say that the cream works by repairing the lipid barrier function of your skin, but what I found was that it creates such a strong layer of lipids on your skin that it's hard for any moisture to leave it. They also recommend this cream for infants and I can see why – it would be amazing for diaper rash or eczema.
Available online.