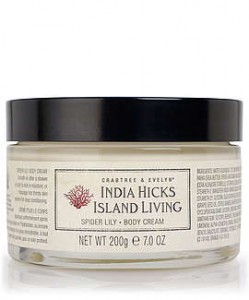 I am staying with a friend, and after taking a bath in her luxurious soaker tub, I used her Crabtree and Evelyn India Hicks Spider Lily Body Cream. The cream went on very nicely and absorbed into my skin very quickly, but the problem with it is that it smells so strong.
I used the cream all over my body and now all I can smell is the cream, to the point that it's kind of giving me a headache.  The cream does smell nice, but I'm sure it would be nicer if I only got a whiff o the scent every now and then.
The fact that all I can smell is the cream even after a day of cooking and being out and about, means that it really smells too strong.
The cream is on sale right now at Crabtree and Evelyn for $10 and even at that price, I'd say that it's too expensive.