Yesterday, I had the opportunity to participate in #InteractiveMonday @CaselMarche, a small box food market, and bistro in Calgary. The whole idea is that every monday, the owner Joel Goralski hosts a dinner at Cassis Bistro. The menu will be a surprise, as will the chef. Anyone can offer to cook the meal and can either invite their own guests, or get Joel's help in bringing together a random assortment of people. The market provides the food, the wine is by J. Webb in the Casel Marche space, and the kitchen is lent by Cassis Bistro. Check out our seating below – doesn't it look cozy? It really just felt like a dinner party in someone's home rather than a restaurant.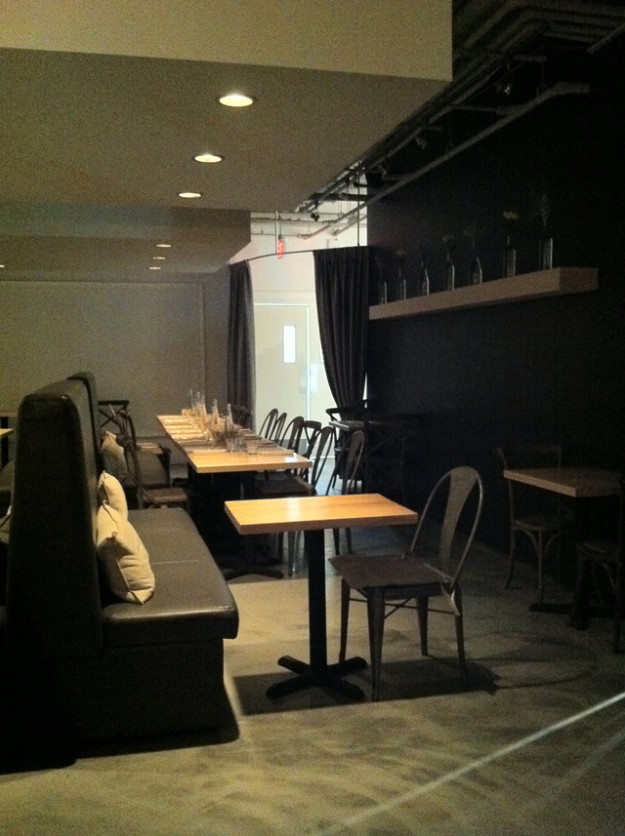 Actually, It felt like I was invited to an intimate dinner party by someone I had just met – which was pretty much true. I follow Casel Marche on Twitter, and happen to win 2 dinner seats to attend the event. I didn't really "know" anyone there and had no idea what to expect.
Luckily, we were in for a treat. The chef last night was French and part owner of Cuisine et Chateau a company that offers gourmet culinary tours in France.
Needless to say, the food was amazing (see the menu above). The highlight was Moroccan Sausages that luckily were available for sale in the market. Not on the menu was an amuse bouche of roasted butternut squash crostini, and smoked salmon served with cream cheese. Everything was organic and made with love, so of course it tasted amazing.
Besides the food, the best part was mingling with guests who were friends of Joel's – online and off. It was such a fun event, and so innovative that it kind of makes me want to throw some sort of dinner on my own – but first work up a lot of nerve. I love cooking for friends but can't imagine cooking for strangers!
Anyway, if you live in Calgary or the area, check out Casel Marche. They are kind of like a gourmet food store with a bistro and wine merchant attached. Also follow them on Twitter (@caselmarche) to find out about other events and happenings.