There are a handful of huge fragrance houses in the world, and one of those is Givaudan which is based in Switzerland.  I'm not even going to say which fragrance company has done which scents, because the fact of the matter is that it's a billion dollar industry and they have all done a ton of mainstream scents good and bad.
Givaudan has just launched an iPhone app called iPerfumer.  It's free to download and the premise is simple: you rate perfumes, and then the app suggests other perfumes that you might like based on your ratings.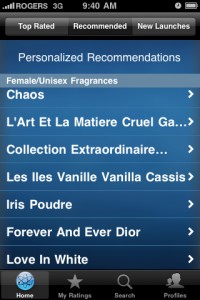 It's a great concept, but there are many problems.
The first is that people are going to rate perfumes that they know, and usually people know perfumes that they have, and they have the ones that they like.  Thus, the ratings are quite high.  I found few perfumes with a rating of anything lower than 3.
There is also the fact that people will have tried perfumes that are super famous and can rate them.  Chanel No. 5 comes to mind.  I, personally, don't love it, but it is a fragrance great, which means that many people have smelled it, and so many have reviewed it.  It sits on the list of top rated scents as I write this article.
The second problem is that there are a ton of perfumes not listed.  They don't have anything that was made very recently, of course, but they're also missing some greats like YSL Paris.  Conversely, they have Marc Jacobs Lola which is newer and made it to the top rated list!
As far as recommendations that the program makes, they are hit or miss.  I hate gourmande scents for the most part, but the program recommended 2 vanilla based scents.  I have yet to smell them so I don't know how much I'll like them, but generally I'm not a fan. I was impressed that when I clicked on recommendations from the new release section, 3 out of the 5 scents were ones that I own and love dearly.
Problems aside, I think that the program has some positives.
Firstly, it's fun to go through as many scents as you can and rate them for your own record.
Secondly, I was able to see a trend in my scent preferences by comparing scents I had rated highly to the recommendations the program made.  It turns out that I love woody, floral scents but mostly those that have a musk drydown.  I didn't know that before!
I can see that the program is more useful for the perfume giant, than it is for the consumer.  If you're looking for a new perfume, it's much more fun to go to Holt Renfrew and smell a bunch of scents and then get something you really like. Clearly, the company is going to take a look at these ratings and use the information to create new scents.
I plan on taking a shopping trip where I smell a bunch of different scents that the program recommends and see how much I like them.  Because of the trends that I have seen for myself, I am guessing that I will like most of the scents, and at least one will be a scent that I love so much that I have to take it home with me.
You can download this app from the Apple App Store!