If you've ever used sunscreen for kids, you'll know that it goes on chalky and white because of the great deal of mineral suncreen ingredients in it.  These are known as physical sunscreens, and they're used instead of chemical sunscreens because they're less likely to break down in the sun thus providing better sun protection.  They're also not able to be absorbed into the skin, meaning that there's less likelihood of them interfering with hormones and growth.  Of course, these are all things that we look for with out kids, but adults don't want to appear to be wearing chalky white sunscreen so the adult formulas usually don't have these ingredients even though they're proven to be better.
Now, as more and more people find out about the importance of sun protection, Neutrogena has released a whole new line of sunscreens called Sheer Zinc.  They have a face and body version, both in SPF 50.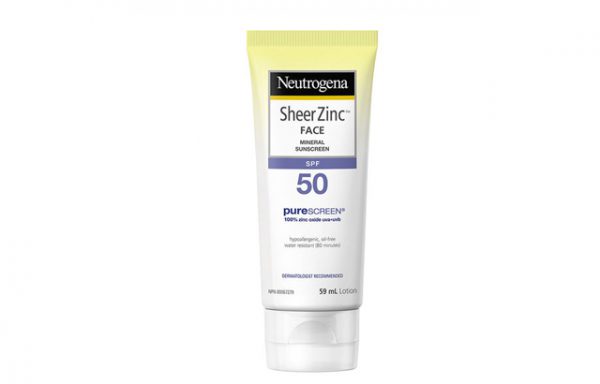 The Sheer Zinc sunscreen contains only zinc oxide as its sun barrier and promises to dry clear.  It has a lot of silicone in it so that it goes on nice and smoothly without being too powdery.  Although this did dry pale white (not clear) on my skin, it did so after lots of blending.  Because I could see the whitish cast, I don't think I would wear this sunscreen on its own to work, or on a day that I was going to be in pictures.  That being said, my makeup glided well on top of this foundation, and I was able to colour-correct pretty easily through the use of foundation and bronzer.  If you wear just sunscreen on a regular basis, you may want to apply powder on top of this to fix any colour issues.
The body version of this sunscreen is also a little whitish, but because you're applying it all over, I find it's not that much of an issue.  The whitish cast is more of an issue for the face because you have to be really careful to blend it on to your neck, and then you have to be careful not to get any on your clothes.  If I'm going to be spending a day out and about, I'll use this sunscreen all over and the colour actually makes it fairly easy to make sure that I've applied it everywhere.  It may not be the look that I want for myself, but atleast I know that I'm getting adequate sun protection.
Because of its use of safe ingredients, and better blendability than any other sunscreens that I've tried, this is the sunscreen that I'm using daily and until I can find a mineral suncreen that can appear sheer, I'll continue to do this.
Pick it up at drugstores now.