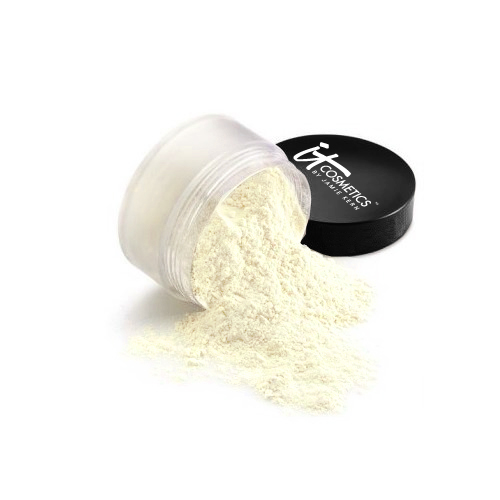 If you like wearing foundation that has more of a satin finish rather than a true matte one, you're going to need something that's going to set it for the entire day.  Try using It Cosmetics' Bye Bye Pores Silk HD Setting Powder.
The powder just melts into the skin and absorbs any extra oils without drying out the skin.  It's not as totally color-less as some setting powders are – I did notice that my skin was a little paler after I used this powder – but it does a really good job of giving you matte skin that's not powdery.  I actually loved how this looked because it made me look as if I wasn't wearing any makeup at all.
However, the reason that I use this is because the matte finish doesn't last the entire day.  After a little while of wearing this powder, I notice that it kind of sinks into my foundation and just gives it a nice and "set" look.  Indeed, the reason that I wear this is not because it's totally matte.  The reason I use this is because I've noticed that it really does make my foundation last the whole entire day, and everything just looks blended together.  My skin looks poreless yet glowy and I absolutely love that.  At the end of a long day (days which are getting warmer and warmer might I add), my skin still feels silky soft to the touch and my makeup still looks done.
My personal tip is to put this on your foundation brush first, then put your foundation on the brush and blend into your skin.  The foundation will be more matte and more powdery and you might not need any more powder on top!  The other thing that I've seen online is that people apply the powder lightly first, almost like a primer, and then put the foundation on top for longer lasting powder and better coverage.
Available online.