You may have heard that @ItCosmetics has been taking the world by storm. The company has been bought by L'Oreal which means that it's going to be easier to get your hands on the products, and if you go to their website, you can see tons of videos on how their foundations go on and how to use their products, and the star of the videos is none other than the founder of the company herself, Jamie Kern Lima, who I've gotten to be a little impressed by after watching her in so many videos.  She really makes makeup and taking care of yourself seem so accessible and easy to do!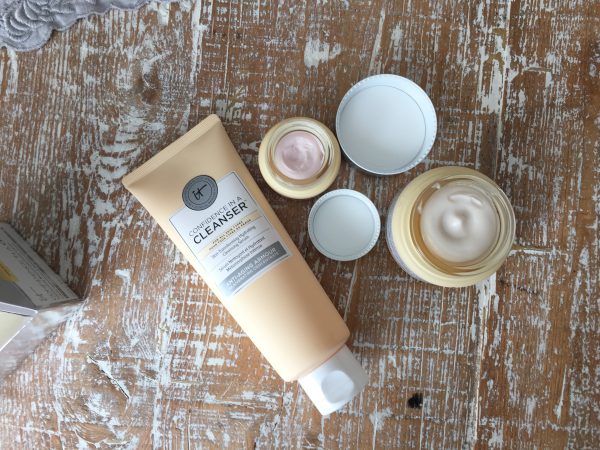 Their latest skincare collection is Confidence in a Cream.  The title is a little misleading – this cream won't cover anything so it might not give you more confidence.  What it is full of is some light-reflecting ingredients, lots of antioxidants, and hyaluronic acid to help skin feel and look better.  The texture of this cream is amazing. It's light, but hydrating. It sinks into skin almost immediately, taking care of tightness, and it does moisturize for a long time.  
Because it lacks any sun protection, I wouldn't wear the cream during the day, but I like it for night time to layer on top of serums.  
They also have a Confidence in an Eye Cream which is a good option for those with under-eye concerns.  It helps de-puff the eye area, and reduce dark circles.
My favourite and most used product from the collection is the Confidence in a Cleanser.  It's foaming but gentle, and it has a serum in it which helps hydrate skin when you wash it.  Not only does it go on smoothly on my skin, it also gets rid of all excess eye makeup, and then washes clean but doesn't dry my skin out.  Of course, I'm using this as a second step to removing makeup – the first step is a cleansing water or balm, but this does a great job as a second step because it really does get rid of everything.
If you want decent skincare with antioxidants, peptides, and gentle moisturizing, then this is a great line to check out.  I'm interested in trying some of the It Cosmetics colour products because I haven't tested those out in a while. I'm sure some of you readers have tried some great It Cosmetics products so let me know what you think in the comments!
Eye Cream – $48
Face Cream – $62
Cleanser – $36