Over the last few weeks, I've been using IT Cosmetic's Eyes of Seduction Kit, and as a whole, it was just okay.  There were a few standout products, but there was nothing innovative or all that exciting in this kit.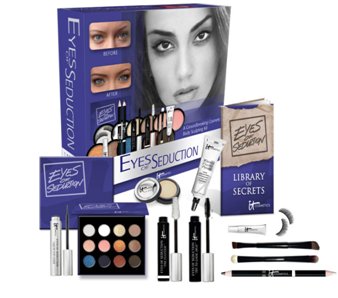 Here's how each individual product rated:
Waterproof and Sweatproof Eye Shadows and Highlighters:
I was pretty excited to try the eyeshadow palette included in the kit.  With 12 colours, a mirror, warm colours, and a good balance between shimmery and matte colours, what's not to like?  I did have to do some experimenting to make these shadows show up on my skin and last longer – they're not as pigmented as some of my MAC shadows and definitely needed a good primer as a base.  I'm going to contest IT's claims that the shadows are sweat proof –  without primer, they started to crease after a 20 minute brisk walk, and I barely broke a sweat.  Even with a primer, they started to fade fairly early into an evening out.
Wrinkle Filling Primer:
This one just didn't cut it for me.  It did leave my skin feeling soft, but it wasn't quite the velvety soft texture I've become accustomed to thanks to my Smashbox primer.
Liquid Eye Liner:
This is one product I could get on board with.  I am hopeless when it comes to having a steady hand for eyeliner, but the brush and consistency of the liquid liner made it fairly easy for me to draw a quick line above my lash line.  It was quick to dry, lasted all day without smudging or flaking, and came off really easily at day's end.
Dual-Sided Eye Pencil in colors Smokin' and Energy:
This was another "meh" product for me.  It was great that there was 2 colours in one pencil (black and white in this case), but there was nothing extraordinary about it.  I tend to wear black eyeliner in the lower rim of my eyes, but this one didn't seem to last all day long.  When it used it to line just outside of the rim, it lasted better.  It even dries fast, with ample time to smudge it if you want after applying.
Frame Prep Eye Base:
It's rare that I hate a product.  In fact, its rare that I strongly dislike a product.  Rather, I would say that I have preferences of certain products over others.  So when I say I hated this base, rest assured that it was terrible.  When it first goes on, it has a waxy texture that takes too long to dry.  When it dries, it's a harsh off-white colour.  When I applied any shadow over it (I tried the eyes shadows included in the kit, MAC, L'Oreal, Clinique), it just didn't set my makeup the way I wanted it to.  I even tried mixing it with another primer to see what it might achieve, and it was just a big fat disappointment – no matter what, it creased before lunch hour and just felt heavy on my eyelids.
Try to Look Away" Mascara and "The Fluffer" Lash Primer:
I've said in the past that mascara needs to be a quick easy sweep for me, with a formula that doesn't smudge or flake.  When I saw that there was a lash primer in addition to the mascara, I was sceptical.  Most lash primers I've tried left a white residue on my lash line and ended up looking like dried-up white Elmer's glue even after I put back mascara over top, but this mascara duo delivered.  My lashes looked longer and thicker, the mascara lasted, and it was easy to get off my eyes.
If you're interested in getting the mascara and lash primer from this kit, or if you want to try the whole thing out for yourself, check it out at TheShoppingChannel.com – they have a great selection of It Cosmetics products.  The kit retails for $80.