Update: the Superhero mascara and the liner are on sale right now for $22.50.  
It's actually fairly difficult to find an inky black eyeliner and mascara that match, last, and are the blackest black that's out there.  Bonus points for me if the black and a tiny bit of blue in it so that it brings out the brown of my eyes.
Now I can stop looking for that perfect combination because I've found It Cosmetics Superhero Liner and the It Cosmetics Superhero Elastic Stretch Mascara.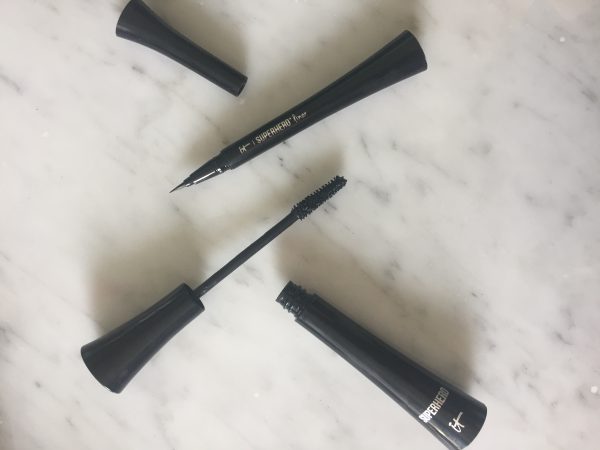 You can see that the Superhero Liner has a felt tip marker which helps you draw a smooth straight line that can be thin or thick.  The liner is super pigmented so just one smooth stroke is what you need to get a fine line.
The Superhero Elastic Stretch mascara is easy to wear.  One coat gives you super volumized thick lashes, so this is the perfect mascara if you like a major lash look.
What I love about both of these is that they're super long-lasting.  The mascara doesn't smudge or smear even when I work out, and there's no even any flaking when I wear a lot of it.  I use a primer with the eyeliner and I find that helps it last the whole day.
The other thing that I love about the liner and mascara is that they're super duper deep dark inky black, which is actually difficult to find in a mascara and eyeliner, and this duo both have exactly the same deep black colour.
$32 each, sold separately at Sephora, The Shopping Channel, or ItCosmetics.com.