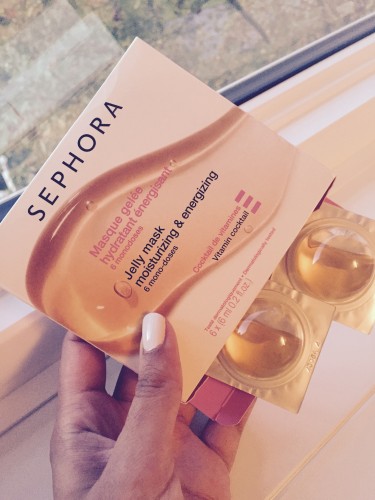 As I write this I've got Sephora's Moisturizing and Energizing Jelly Mask sitting on my face and just the cool feeling of the gel is doing wonders.  It's been a long night – I'm getting over a cold, but I feel good because I got a solid 5 hours of sleep – that's a lot these days.
The Jelly Mask goes on cool and smooth and makes me feel refreshed right away.  The directions say to leave it on for 20 minutes, but even 5 minutes is enough to do some real good to my skin because this mask sinks right in.  It might not be what I'm looking for in the winter, but it's perfect for the warmer months of fall.
You don't have to rinse this off, but I've smeared on a thick layer, so I wipe off the excess with a towel and follow up with my favourite moisturizer while my skin is still damp with the mask.
Pick it up at Sephora for $24.