I've been using Jergens Natural Glow Daily Moisturizer.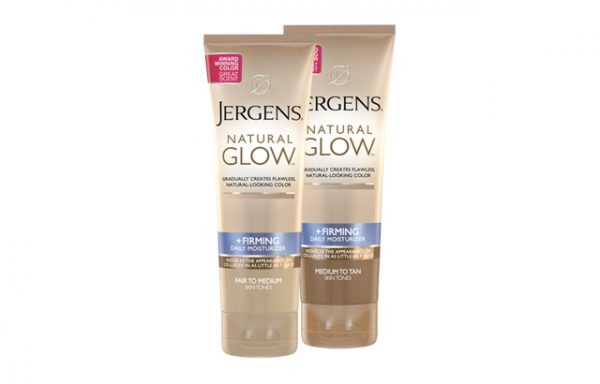 This is a moisturizer that adds a gradual tan, and the advantage of using a product like this is that it's harder to make mistakes and easier to correct them. You build colour up slowly, and if you just use this product instead of your regular moisturizer. Let me tell you that the best part of this moisturizer is that it smells like cookies – and not in an overly sweet way either.
The smell of cookies lasted for about an hour before the scent of the self-tanner started to come out. I've heard people complain about this scent, but the fact of the matter is that if you want to get a tan and avoid the sun, then you're going to have to put up with this. My tip for getting around it? Apply the lotion before you go to bed. You'll fall asleep before the tanner smell ever kicks in and will hardly be able to smell it in the morning. Plus you wake up with a golden glow – what could be better?
Also, the lotion is shimmery but not so much that it's overly obvious.
As for colour development, I didn't see much on the first day of using this moisturizer, but in about three days I had a noticeable tan, and after over a week of using this product, I think that I've reached full potential – very dark but that's fine, I used the darkest shade. I have a very natural looking tan and I'm not orange at all. What's nice as well is that this product is very moisturizing. The bottle dispenses a smooth thick lotion that I can use in place of my regular moisturizer.
As with all self tanners, you have to wait for this product to dry on your skin, but it doesn't have any colour on it so don't worry about staining your clothes. Mess free application, nice scent, and a product that works! Here's to a longer summer!