This spring, the concept behind Jo Malone's new fragrances is tea blends. Tea blends have gained recent popularity in recent years, and the fact that this is coming into beauty and fragrance is no surprise. Known for a variety of properties, ranging from anti-aging, to revitalizing, tea has come to be an important part of many cultures, even North American!
Tea with Jo Malone makes even more sense since tea seems to be inherently British and so is this fragrance brand.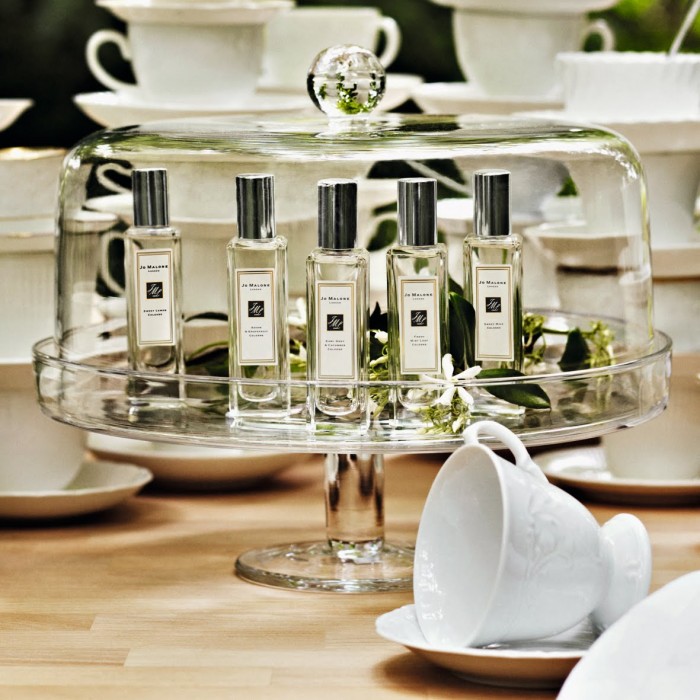 The tea blend colognes are: Assam and Grapefruit, Earl Grey and Cucumber, Fresh Mint Leaf, Sweet Lemon, and Sweet Milk. The best way to wear these is to mix and match as you would do with any tea. When you want something fresh, add a spritz of the Fresh Mint Leaf. When you want something soothing, add a touch of Sweet Milk to your normal routine.
It bears noting, however, that all of these are so well formulated that you can certainly wear them on their own as well. These are not really one note scents. They are sophisticated and blended with other notes so that you get well-rounded and full-bodied scents. Though these are colognes, they have formidable lasting power and strength.
My favourite is the Earl Grey and Cucumber which is "a playful blend of fruity bergamot, fresh cucumbers anchored by a warm base of beeswax, vanilla and musk". The idea behind the scent was of a classic tea party. Earl grey tea and cucumber sandwiches belong in a time-honoured tea tradition, and the fresh cucumbers paired with lemony earl grey is a nice idea. The Earl Grey starts off fresh and lightly tea-like, and then turns into a tea with milk and honey in it. I like the sweet honey like flavour that the beeswax and vanilla bring to the cologne, and I like the freshness of the bergamot and cucumbers when I first put this on. Because scents turn sweet on me, this warms up to my skin nicely and gives more of a subtle warm scent rather than a fresh one.
Jo Malone is available at Holt Renfrew stores here in Canada. Visit their counter for the whole scent combining experience.