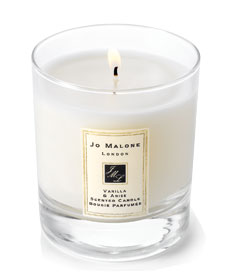 Last fall, Jo Malone came out with their Vanilla and Anise scent which may just be my favourite vanilla scent ever – it really doesn't smell like a traditional vanilla.
This spring, they've come out with a beautiful Vanilla and Anise candle.  It has the same notes as the original, but I find that I can smell the Bergamot and Fennel a little bit more in this incarnation than I could in the original.  It's a pretty special candle, and Jo Malone keeps from making it smell too sweet, which is the case with most Vanilla scents.
You can get this at Holt Renfrew locations throughout Canada and it retails for $75.  Other new products in the collection are the bath oil and body creme which are equally delightful.  Beware, however, that the bath oils smell very strong and are not for the feint of heart – but if that's what you like, or if you only plan to use it sparingly then they are amazing purchases because they truly last until your next shower.