Jo Malone fragrances are not for everyone – but they are for me, and I still remember how much I loved my first purchase, Pomegranate Noir. If I had to describe that scent, I would have to say that it does sometimes smell like slightly rotten fruit. Can you see why it's not for everyone?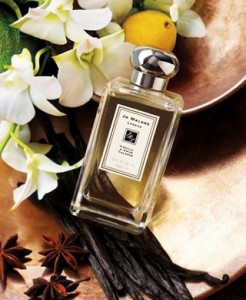 As it turns out, Jo Malone's launch, Vanilla and Anise has a much more universally pleasing scent. Although the scent dossier says that it's a modern vanilla, to me this is totally old school. The Vanilla and Anise Scent remind me of a spiced tea cake or cookies that have hints of cardamom in them. However, it does all this without being overly sweet or even the slightest bit gourmand. Like all Jo Malone scents, her skill lies in the subtlety of creating unique fragrances.
I found that this wore better than most Jo Malone Colognes and layered especially well with Grapefruit, which is a citrus with a spicy base.
$186 for 1o0mL.