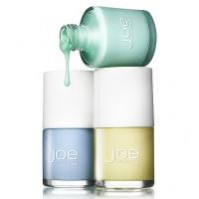 So the enormous, cheap yet chic retailer Joe Fresh now has a line of nail polishes out in seemingly endless array of colours and finishes. There are pastels, brights, shimmers, and creams and they all come in cute little bottles for a low low price of $4.
I've been trying the polishes and I have to say that I'm impressed.
I've tried the polishes with and without primers and top coats and no matter what I used with the polishes, I always had at least 5 days of wear without any chips.
My favourite ways to use this nail polishes was just on their own. They looked flawless, lasted a long time, and I didn't have to go to the trouble of using a base and top coat. The only thing I didn't like about the polishes is that the bottle is so short and stubby. That means that the brush is short too, and you have less control when you're applying the polish. But still, given that these are such great quality, I would continue to use them and I can purchase whatever colour is in season whenever I want.
It should be noted that these are also formulated without formaldehyde, toluene, DBP, or camphor.
I think with the price, these polishes are very hard to beat – I'm almost inclined to give up Zoya as my favourite brand…. almost.