For the past few months, I've been smitten with a few new John Frieda products that have worked really well for my hair.  I have tried the John Frieda Full Repair Touch-Up Flyaway Tamer, and the Luxurious Volume Anytime Volume Refresher, and if you want to read reviews of either of those, just click on the links.
Because I liked some of the Full Repair line so much, I thought I would try the Full Body Shampoo and Conditioner as well.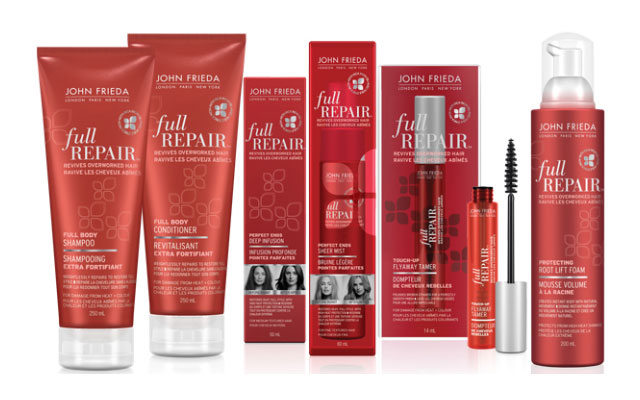 If you regularly heat style your hair, then you have to pick up this conditioner at the very least, because it gave me the shiniest smoothest hair that I've had in a while.  I used the shampoo and conditioner as usual, and then put a light serum in my hair.  When it came time to flat iron, I found that my iron just glided over my hair and left shiny smooth locks behind.  The only thing that I changed in my hair care routine was the shampoo and conditioner, so I know that's what made the difference.
Both the shampoo and conditioner are formulated with inca oil which is a source of omega 3's.  It leaves your hair smoother because it's more moisturized.  You will find your hair is easier to handle and retains style better because it's nice and hydrated.  Despite the mega hydration, the conditioner is super light and does not weigh hair down making sure that you do get the body and volume that you want.
For a drugstore shampoo and conditioner, I think that the Full Body line is amazing, and I would definitely get either of these again.  You can pick them up at your drugstore for $10.49 each.
Check out the other products in the Full Repair line as well – so far, I have not been disappointed by any of them, and I am really impressed by this line.