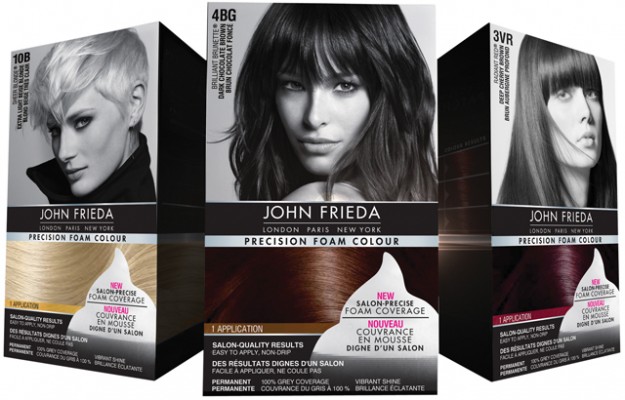 This spring, John Frieda finally introduced their own foam hair colour into the Canadian market. Their Precision Foam Colour came out in the US last year, but you can finally get it for yourself without having to make the trip south of the border!
I tried the foam hair colour and I have to say that I could immediately notice the difference between John Frieda's product and other ones that I have tried.  Their foam is more rich – it is dense and the bubbles don't burst as quickly because they are a lot smaller.
The foam applies just like other foam products.  You spread it on to your hair, starting with greys first, and then move to other parts of your head.  Once you're done, you have to keep applying the foam so that it saturates each and every strand completely.  The more foam you use, the better your chances of uniform coverage.  I found the method to work, but I found it quite tedious to keep applying the foam on my very long hair.  I prefer applying, and then reading a book for 30 minutes until it's time to rinse.
The colour takes 30 minutes to set, and then you can rinse it out and follow with the accompanying conditioner.
True to its claims, the Precision Foam Colour was easy to use and gave me uniform colour.  My hair was super shiny after using it, and overall, I've found that this foam is a much better product than other foams that I've tried.
That said, the colour I used was 4N Dark Natural Brown, and it came out pretty much black on my hair, so the next time, I would definitely use a shade or two lighter.
Although I liked the product, it's not my holy grail of hair colours because of the colour in the end, and because the application is so tedious.  If you prefer foam hair colours above other formulae, you should check this one out because it does seem to be the best foam hair colour on the market.  You can find it at drugstores for $14.99.  It comes in 24 shades, so there should be something for everyone in there.