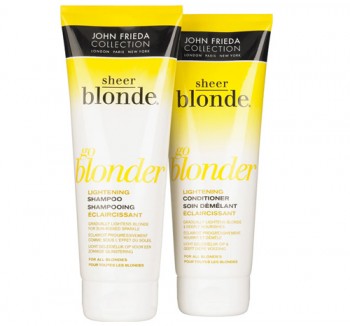 I love John Frieda products because they magically do what they promise and the Sheer Blonde Go Blonder Lightening Shampoo and Conditioner are no exceptions.
Before using them, I was very skeptical – I have very dark hair, and I was sure that it would take a lot to actually lighten my hair.  It wasn't until I went in for my next colouring that I noticed that my hair was actually lighter than usual!   I used the same dye as usual and the colour on my head seemed way darker.  Of course the reason for that was that I had been using the Go Blonder set and it had lightened by hair by about a shade.
I used this consistently for about a month and saw subtle results.  If you want to maintain a natural looking blonde or lighter hair colour, I would suggest sticking with this and using it on a regular basis.
The best part was that both the shampoo and conditioner aren't drying – in fact the conditioner is exceptionally creamy and smooths hair in a jiffy.