My dry and damaged hair doesn't just need hydration in the winter – I actually need it all year round because of the dry climate where I live.  I also work out regularly, and like to wash the sweat out of my hair, so I wash my already dry hair in a dry climate, more than I probably should, but definitely as much as I need to.  Oh, and I colour my hair which can be drying… and I heat style at least once a week… So, my hair is dry and needs TLC.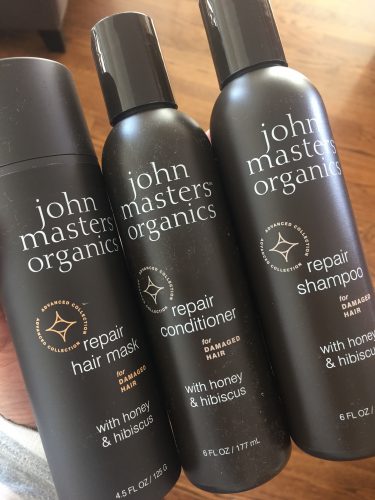 I've been using John Masters Organics Honey and Hibiscus Collection to give my hair some TLC.  The shampoo ($29) is sulfate-free which should be more gentle on my hair, and combined with the conditioner ($29) and mask ($39), my hair is conditioned but not weighed down. Perfect for curly hair because it will help your curls be defined not flat or greasy. Despite being silicone-free, the conditioner and mask have lots of slip to them – which is nice when you're dealing with hair that has tangles.
My also really love the scent of these – herby, and fresh, it even gets me compliments so I'm a big fan.
Available at natural grocery stores and in salons.