I think salt sprays are a thing of the past, but windswept and more beachy hair is a vibe that's just so perfect for the summer.  No one wants to look like they got a blow out because being that done up just doesn't feel summery!
As an alternative to our regular texturizing products, I've discovered Joico Beach Shake, a texturizing finisher.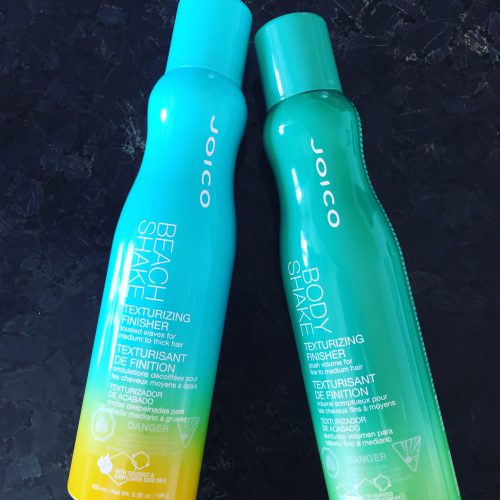 There are two versions, one for thick hair and one for fine hair.  The version for thick hair is definitely heavier – it feels like there's more density to the product as it comes out of the bottle.  I use the one for fine hair because that's the hair that I have, and while I like it tamed, I don't want it weighed down.
What I love about this texturizer is that it's dry and not heavy.  It's matte, so you don't know that it's there, but it gives hold to your hair too, so if it gets wet, or humid outside, your style will still be your style.  I've used a dry shampoo to give my hair texture before, and this kind of feels like that, but dry shampoo doesn't have the hold, so that makes this kind of the perfect finisher.
If you use this, keep application close to the roots of the hair so get the most body possible.  I like to spray it into my hair while it's upside down, I wait for it to kind of set, and then get back up the right way.  I don't use it on the ends because I don't need to, but that being said, it's not drying to my hair at all.  Use after styling as a finisher.
$22.60 at salons.