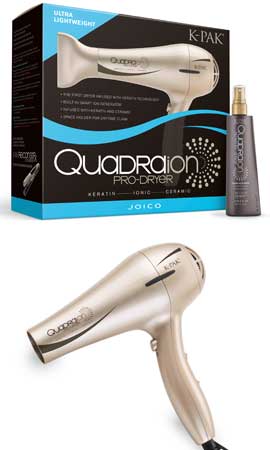 This year, Joico came out with its own hair dryer so that they could help people get healthier hair than they thought they could get with a hair dryer.  I've been test-driving it, and I'm going to say that I'm ditching my old T3 hair dryer and using this instead.
The science behind this hair dryer is that it uses negative ions to dry the hair.  It has its own negative ion generator which helps cancel out the positive ions in water, and helps hair dry quicker.  It really does make a difference and you'll notice it if you go from a regular hair dryer, to one that uses negative ions.
The ions are generated through the mouth of the nozzle.  As the hot hair leaves the hair dryer, a coating on the nozzle releases negative ions into the flow.  Thus, because it's dependent on the coating, the ions will be produced for the entire life of the hair dryer.
The thing is, my old T3 was also an ionic hair dryer and it worked really well.
The reason that I'm switching to the Joico dryer is that it works just as well as the T3 but it's lighter!  The T3 weighed 2 lbs, while the K-PAK weighs about 1.  It's only the difference of a pound, but I have found that it makes a difference.
The dryer also has 3 heat settings and 2 speeds so it's versatile and easy to use on any type of hair.  The hair dryer is $199 which is significantly less than other high end brands, and can be purchased in salons.