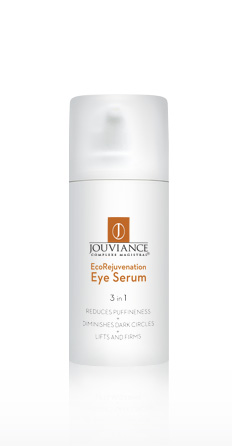 Like many women I know, I've never bought the same eye cream twice. They're one of those expensive, preventative beauty products that don't really seem to do much when you're young. (prevention, I suppose?)
I was in the drugstore for my bi-annual eye cream hunt (eye cream lasts an extremely long time, doesn't it?) and I was pursuing the choices in the Lancome section when a sales associate suggested I try the Jouviance EcoRejuvenation Eye Serum, as it was a product that had been raved about many times over at the esthetics school she had recently attended.
There were several things that were attractive about the Jouviance versus the Lancome; the Jouviance Eye Serum claimed to reduce puffiness, diminish dark circles, and lift the eye area as well as moisturize, while the Lancome was only a lifiting formula. The Jouviance was also fragrance and paraben free; and as much as I love Lancome products, they are generally pretty fragrance heavy, which for me is very undesirable in an eye cream. Thirdly, the Lancome was about double the price of the Jouviance.
I've been using the Jouviance for about 3 weeks now, and it does measure up okay to the more expensive eye creams I've tried. While it doesn't completely deflate puffy bags, it does de-puff them a bit, which is usually good enough. My dark circles aren't quite as bad as they normally are with this product which is also a plus.
Mostly though, I find that the eye serum isn't quite moisturizing enough. It's okay for summer, and if you don't generally like the heavy creams around your eyes, this is the product for you. I've also found that it doesn't sit well under concealer, and has a tendency to sort of roll up on itself if you try to pat concealer over it.
Would I buy this again? Probably not. It does do what it says can do, and it's generally not a bad product, but I prefer an eye cream that's a bit more hydrating.
Jouviance EcoRejuvenation Eye Serum is around $41CAD for a 15mL, airless pump bottle.