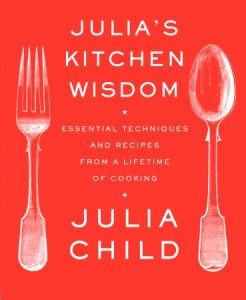 I grew up watching cooking shows with my dad, and one of the ones we used to watch way back when was Julia Child's show. She really had spark, was totally real, and had some good recipes to boot. She didn't necessarily make anything fancy, but she made food that you actually wanted to eat and could eat at home.
I just got Julia Child's Kitchen Wisdom and it really reminds me of the show, because it's just simple recipes that you'll want to have. There aren't any pictures in the book and it's not an expensive one, but it's still great.
Do you know how hard it is to find a simple recipe for custard? There are a ton of them on the Internet, but the problem is that they are all different and most of them are to be used as part of a larger recipe. Well Julia has a good basic custard recipe and all the variations on it so that you can put things together yourself. The book is a great resource to have in your kitchen and would make a lovely hostess' gift to anyone who likes to cook.
This is a classic book that you will have forever, and you can get it online for $18.