This summer the latest trend is moisturizers that are designed to please your nose and not just your skin.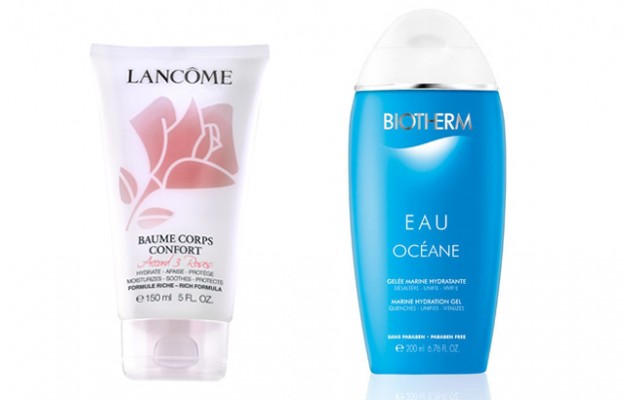 Case in point:
Lancome's new Accord 3 Roses, due out in July.  The new body range includes a refreshing Body Milk, and a Body Balm, both meant to hydrate skin and make it feel silky, but both are also highly scented and so make you smell like a freshly cut rose.  The products were formulated using 3 rose extracts to help hydrate skin, and are a mixture of glycerine and water, a formula meant to pull moisture out of the air and on to skin.  $46 for the Body Milk, and $36 for the Body Balm.
There's also Biotherm's new Eau Oceane which comes in an eau de toilette, and a refreshing hydrating gel, and is already on counters.  Needless to say, the gel is light and fresh-feeling (like an ocean mist!) and the two products smell distinctly marine.  The eau de toilette is said to be enriched with glycerine so that it could hydrate while providing a nice scent to skin, but I think if you're spraying too much of this, you risk the chance of over-doing it and offending anyone around you.  The body mist is $54, and the Marine Hydration Gel is $36.