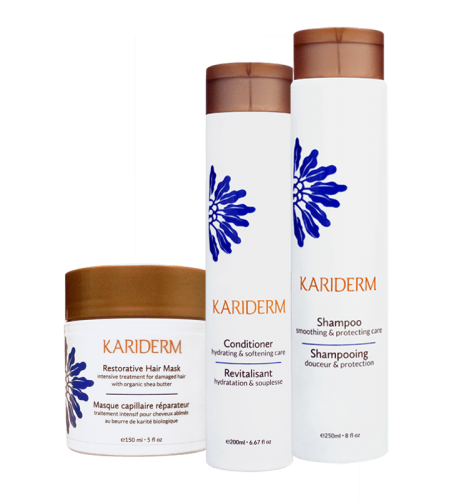 I have a love/hate relationships with natural shampoos and conditioners.  I like that they're supposed to be good for your hair – soapless, silicone-free, natural ingredients, even good for the environment – but they just don't feel like they're cleaning my hair the way that other shampoos do and I really like my hair to be squeaky clean.
Kariderm's Shampoo ($11.95), conditioner ($11.95), and hair mask ($21.95) all have shea butter in them which makes them all super hydrating, but because there's no silicone in them, these products are missing the traditional slip that other hair products give to your hair.  After using the shampoo, your hair feels squeaky clean but not smooth. The conditioner seems to absorb into your hair almost instantly, and even leaves a bit of a residue that makes hair feel conditioned and maybe a bit heavier.
To be honest, the real results are seen only when you stick with using this product line.  A few weeks in and my hair is noticeably less frizzy even though I haven't been using a hair serum in it.  It took a few shampoos to wash the hair dye out of my hair when I had put it in, but weeks after that, I've noticed that my hair colour hasn't faded thanks to the shampoo being free of Sodium Laureth Sulfate.  It hasn't even gone orange and I haven't need to re-tone it which is something that I usually do once a week. The results are worth the change in feel. My hair curls better on its own – the curls are springy and bouncy – and I'm using less product to make my hair feel put together.  I can even blow-dry it easily or use a straightener in it.
Available online.