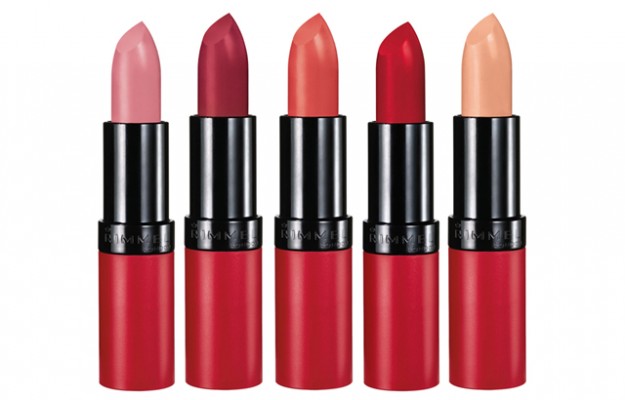 I'm kicking all my other lipsticks to the curb because I've found a new favourite – it's the brand new Rimmel London Kate Moss Lipsticks in a new velvet touch formula. These are long-wearing but not completely drying on the lips. You know them from the other Kate Moss collection because they come in the brilliant red tubes (the old collection was housed in black tubes).
I am a huge fan of these new lipsticks. They are heavily pigmented, long-wearing, literally velvet-like to the touch, and come in lovely everyday wearable colours. The finish is almost matte – I say almost because there does seem to be some moisture, some movement, to the finish, but it is basically matte. Because it's not a true matte, the lipstick is easy to apply with a great deal of coverage in just one swipe. I actually like wearing these on top of a lip balm because I did find them to be slightly drying, but not so drying that I'm averse to touch-ups throughout the day.
The colour selection for these lippies is great – there is a nice range of nudes, neutrals, and bright colours so you'll be sure to find something that really works for you.
Pick them up in drugstores for $7.49.