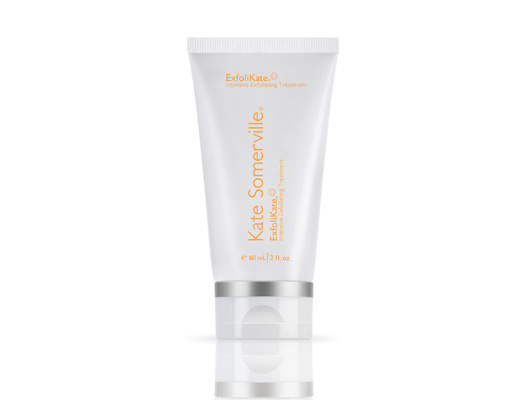 First up is the highly hyped Kate Somerville Exfolikate exfoliating treatment.
I'll start by saying that this is not for anyone with sensitive skin, because even with my hardy oily skin, I felt major tingling (slight burning) when I applied this for the first time, and I took that to mean that it was working.
The treatment is made up of a creamy base with grains mixed with lactic acids and fruit enzymes.  To apply, you rub this on to your skin, taking care of surface dead skin, and then let the product sit on your skin for a few seconds longer so that the enzymes and the acids can do their work.  It's the lactic acid that really does the burning and penetrates the skin to give you major results.  There's a good reason that Kate Somerville is known for this product, and that's because it really does work.
After one use, you will see a lightening of major sun spots and discolouration, and I like to use this once a week to keep my skin really clear.  The product is green and it turns clear as it dries, letting you know when you can wash it off.
As I said, if you have sensitive skin you probably don't want to use this product as it will leave you really red.  Also, you should follow the directions and leave this on your skin for the recommended 2 minutes or so and then wash off.  Only if you are able to handle that should you leave this on your skin for any longer, and when I did, I did notice some redness to my skin.
This does also come in a gentle version which is recommended for those with sensitive skin.
At $110, yes, this is on the pricy side, but it's at par with other department store product prices.  The one upside to Exfolikate, however, is that you will notice major results and this has active ingredients that produce those results so I feel that in this case the $110 is completely worth it.