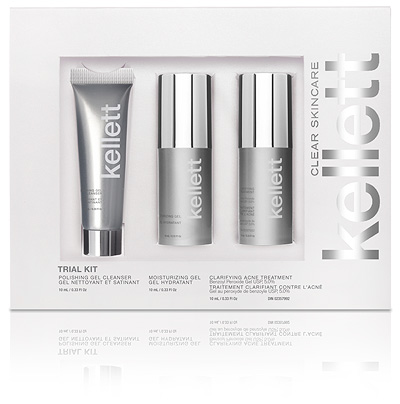 The latest to come my way is a system for adult acne plagued skin which has its own needs – adults want to make sure that the products they use won't cause wrinkles and at the same time, they want to be acne free.  If you're over the age of 18 and suffer from adult onset acne, then this might be the system for you.
Kellett skincare goes to the next level by being free of parabens, synthetic fragrances and dyes, and any kinds of petrochemicals.
It's formulated by a doctor (Dr. Kellett!) and so it contains the best ingredients for ideal skin care.  Dr. Kellett studied at the prestigious University of Toronto med school, and specializes in dermatology.  Her adult patients kept asking for products that could help acne and wrinkles, and so she created something herself!
The system works because it is so well thought out.  It contains a polishing cleanser – with little scrubbing beads, this is great for skin with acne, because it's often oily and could use a good scrub to get rid of dry and dead skin cells as well as scarring.  It also contains a gel with 5% benzyl peroxide – proven to kill the germs that cause acne.  Finally, it has a sunscreen spray.  With spf 30, the spray is light and can even be used on top of makeup which makes it ideal for any kind of skin. Plus, protecting your skin from sun can ensure that scarring is minimized and skin remains clear and fresh.
You can find the system online.