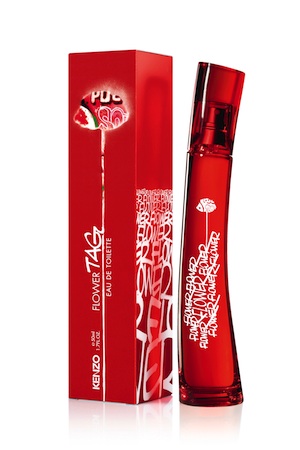 Kenzo Flower Tag is the latest flanker for the original and iconic Kenzo Flower perfume.  The "Tag" refers to the underground graffiti artist practice of "tagging" which is leaving your symbol everywhere.  Why Kenzo felt that this particular sub-culture reference might appeal to younger women is beyond me.
However, I actually like the idea of this flanker because it stays very true to the original Flower fragrance, but is lighter and more fresh.  "Younger" doesn't mean that it now has sticky sweet notes, or that it's lost its integrity.  Flower Tag is just as good as the original with most of the original notes.  Notes include peony, black currant, mandarin, jasmine, and lily.  Like the original, though this is fresher, it does last a long time and wear well on the skin or on clothing. The drydown, actually, is more similar to the original than the fresh top notes that you smell when  you first spray this.
Pick it up at department stores.