Kerastase's Aura Botanica line of products came out last summer, and it was the brand's foray into more natural hair care.  The line had no silicones and sulfates, but they still work!
This summer, Kerastase has added styling creams to the line and they went to the front of my vanity for products I need to use, because part of my mission this summer is to try not to heat style my hair too often and figure out how to make it frizz-free and keep the curl.  These came out at just the right time.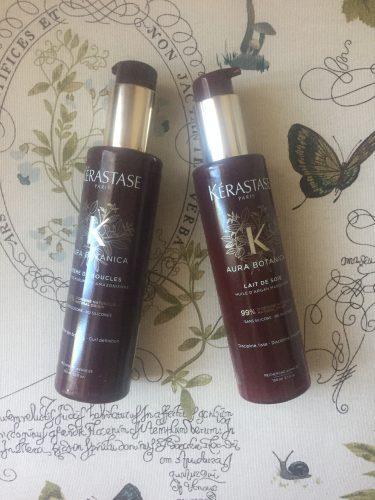 The two styling creams are for different hair styles, and feel totally different.  The Lai de Soie is for blow-drying or straight styles.  It has more slip in it and dries soft.  There's hardly any hold in it which is great if you want hair that's touchable that you can run your fingers through.
The Creme de Boucles is for curly hair-styles.  It has lots of hold to it and a good amount of shine too.  It's great for defining curly hair.  The best way to use this is to part your hair into even sections and then apply pump at a time, section by section, so that you can get even definition.  The Creme de Boucles is amazing at taming frizz and defining curly hair.  If you live in a humid climate, and straightening or blow-drying is not in the cards, then this is the best thing to use, because it keeps your hair nice and curly but locks out any excess moisture.
Both styling creams are good – and the fact that they're sulfate-free means that there's less chance of build-up on the hair and possibly less breakage.
Available in salons.