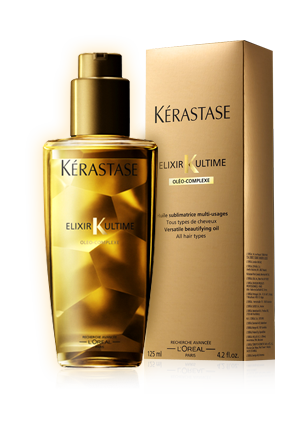 Kerastase's Elixir Ultime is a new groundbreaking product in the world of hair serums. This is the first one that's made from a combination of oils but works just like a normal serum. Use this and you're on your way to nice healthy hair!
Elixir Ultime is made up of all oils, including Argan oil. The oils used are:
Maize Oil extracted from corn germs of Central America, Maize Oil delivers emollient and anti-oxidant active ingredients for ultimate shine.
Pracaxi Oil native to the Amazon, Pracaxi Oil brings shine, nourishment and deep conditioning to the hair.
Camellia Oil harvested in Asia, Camellia Oil helps smooth the hair fiber, resulting in incredible shine.
When I used this, I was definitely able to blow-dry my hair quite easily and the result was very shiny, touchable hair. I also liked using this on the days that I wasn't going to blow dry, because my hair still turned out to be super soft and smooth. It was healthy-looking and so shiny, without any build up or grease that can result from using a hair serum with silicone in it.
At $60 for the bottle, Kerastase Elixir Ultime is definitely an indulgence, but I haven't tried a serum like it so I do recommend it.  I also have to add that this serum smells absolutely divine.  It is extremely luxe smelling, with a mix of amber and and Camellia, this is almost like having a perfume just for your hair.  It's nice to know that at that price, you can get a product that's the best in every regard. The bottle is also quite large and so it will last a long time.
Pick this up online or in salons.