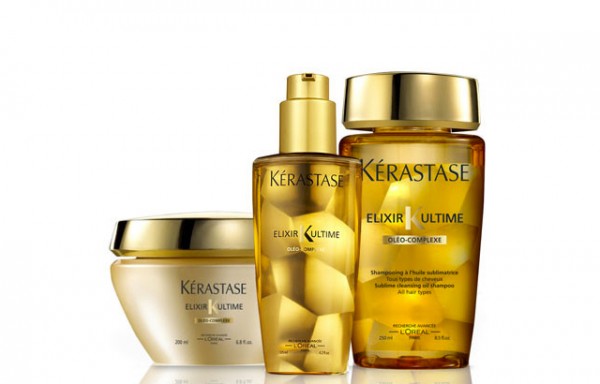 Readers, I'm a huge fan of anything infused with oil when it comes to hair.  I'm finding more and more that these products that have oil in them leave your hair softer and shinier than ever before, and rarely do they weigh down hair the way a regular oil would.
I've mostly stuck to styling products, but now I'm using Kerastase's Elixir Ultime Shampoo and Conditioner and it's just what my perpetually dry hair needs.
What makes the shampoo ($42) different from other moisturizing shampoos is that it's clear instead of being creamy, so it hydrates your hair with the oil but also leaves it really clean.
I follow up with the Masque Elixir Ultime ($61) which is made with argan, camelia, corn, and pracaxi oils so it's super hydrating.  Like the shampoo, the mask doesn't weigh hair down and it's actually slightly less thick than most moisturizing/hydrating masks.
This line is made for all hair types, so it makes sense that it's hydrating but also not super heavy.
Follow up with the original Elixir Ultime serum ($55) which is also made with the same four oils and can also be used as a pre-treatment.
Available at salons or online.