Longer, thicker, and healthier hair is always my goal, because I love to wear my hair long.  I always have, and it's jut want feels the most like me.
I had to try Kerastase's Extentioniste collection because it came with a scalp and hair serum to help protect the hair from root to tip.  Paired with the shampoo and conditioner, and the salon treatment, the entire routine promises 99% less breakage, 78% fewer split ends, and up to 4 cm of growth in 3 months.  Those sorts of numbers can be difficult to track, but I knew I could track the growth.  The number of grey hairs I have makes it easy to see how fast my hair is growing.
So I've been using the shampoo, the conditioner, the mask, the serum – and I've been going for salon treatments too over the past few months, and there's no doubt that all of that is working.  My hair feels stronger – it always grew, but it would be so thin at the ends – but now the ends are thicker too.
But what I'm also loving is The Resistance Serum Therapiste which is a biphase serum/cream in one that protects your hair from heat styling but also makes it shiny and pretty after styling.  I've been using it so much that here's an empty of it.  Yup, it was that good and now it's done.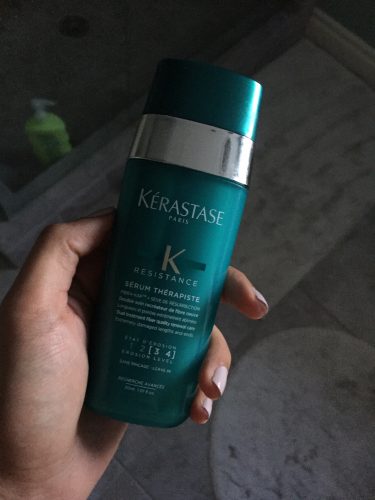 Now, I've seeing Trina at Jerome Salon to get my hair done, and if you're interested in trying a Kerastase treatment for yourself, or even picking up this serum, check them out.
Kerastase treatments cost $38 and up… more about my Extentioniste treatments and routine coming soon.
Jerome Salon: 1305 11th St S.W. | CALGARY, ALBERTA | T2R 1G5.  (403) 228-0018 .